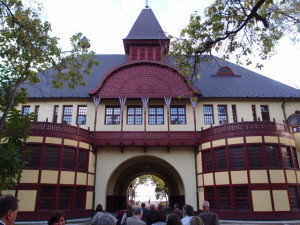 The complex of buildings near Lake Palić, whose construction was completed in 1912 based on the projects of two architects from Pest, Dezső Jakab (Biharrév 1864 – Budapest, 1932) and Marcell Komor (Pest 1868 – Sopronkeresztúr, 1944) are among the representative examples of Hungarian Art Nouveau. These are the Water Tower, the Grand Terrace and the Women's Lido. The Water Tower, which was also a tram stop with its pavilion, is located at the main entrance to the park, and the lake surface is appearing through its gate. The opening of the gate indicates on Székely gates, and it is connected to the arc under the Great Terrace with a pedestrian path. The Great Terrace is an object that was used as a spa saloon, a place for entertainment, with a multipurpose ballroom, a pastry shop, a restaurant, some shops and two large balconies. While the Water Tower is the symbol of Palić today, the Great Terrace is intended for business and conference purposes. The Music Pavilion with its octagonal base, located between the Great Terrace and the lake, was the place of outdoor concerts where the musicians contributed to better service of spa and resort guests. In the series of these objects, there is also the Memorial Fountain just by the lakeshore, which was created in 1912 on the occasion of the completion of the objects in Palić and the Town Hall in Subotica, all designed by Jakab and Komor. On the fountain, among the three typical Art Nouveau female faces, there are brief notes about the history of the lake.
(Olga K. Ninkov)
Bibliography:
Mađar, Laslo / Magyar László (2003): Palićke šetnje – Palicsi séták – Palić Promenades. Palić – Ludaš & Krstić, Boško, Subotica – Szabadka.
Martinović Cvijin, Kata (2002): Subotički opus Komora i Jakaba – Komor és Jakab szabadkai opusa. In: Krstić, Boško (ed.): Secesija u Subotici – Szecesszió Szabadkán. Književna zajednica, Subotica – Kijárat Kiadó, Budapest, 24–75.
Várallyay Réka (2006): Komor Marcell – Jakab Dezső. Holnap Kiadó, Budapest.
Вујиновић Прћић, Гордана (2006): Велика тераса; Водоторањ; Спомен чесма; Музички павиљон. Заштитар, 1., Међуопштински завод за заштиту споменика културе, Суботица, 137–143.
Vujinović Prćić (2006–2008): A Vigadó, A Víztorony, Az Emlékút, A Zenepavilon. Örökségvédelem, 1., Községközi Műemlékvédelmi Intézet Szabadka, 137–143.