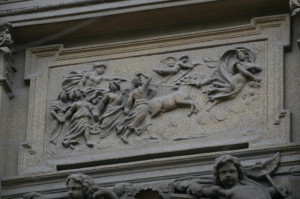 The sumptuous reliefs of smaller format can be found on the eclectic neo-baroque facade at 6 Dimitrije Tucović Street, or on the second mansions of the Jewish merchant, József Róth. The building was constructed in 1887 after the designs of Géza Koczka, and it is located in the street that connects the Town Hall with the Municipal Museum. In the symmetric fields on the first floor facade one can find a rich plaster decoration, which appears in the form of mythological scenes. In the first field from the left, we can see a relief depicting Aurora, the Roman goddess of dawn as she takes off in front of a cart with her brother, the Sun (Sol). In the following relief there is Apollo with the nine muses – patrons of arts and sciences, each of them holding their own attributes. The third scene shows Bacchus, the ancient god of wine and his wife, Ariadne in a chariot harnessed with lions and satyrs. These reliefs are unique in their small size with a multitude of figures on them, made in a plastic way and with a lot of dynamics, which is typical to baroque treatment of forms. The tympanum with an open shell and winged angels, lion's head on the edge of the roof and above the entrance gate, together with the scenes in the relief areas are typical to eclectic mix of styles.
(Olga K. Ninkov)
Bibliography:
Vujnović Prćić Gordana – Aladžić Viktorija – Grlica Mirko (2004): Gradotvorci–Városteremtők. I, Gradski muzej Subotica – Szabadkai Városi Múzeum, 194–197.
Rakočević–Cvijanov Maja – Džamić Neda (2011): Fasadni reljefi i skulpture u zaštićenom jezgru Subotice. Međuopštinski zavod za zaštitu spomenika kulture–Községközi Műemlékvédelmi Intézet, Subotica, 45–47.