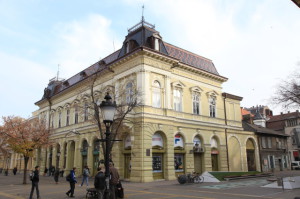 It is assumed that the mansions of Samko Manojlović were designed by the architect Titusz Macskovits from Subotica (Subotica, 1851 – Subotica, 1919) at the beginning of the eighties of the 19th century, in neo-renaissance style. The building is decorated with unique figural sculptures. On the ground floor, above the entrance gate, on the slopes of the tympanum there is an act of a man and of a woman, Zeus and Hera, in the spirit of renaissance sculpture. It was the first time that the beauty of the male and female body was shown in such large size, visibly on a facade in Subotica. On the upper part of the main facade above the two side windows, we can find a couple of female figures, one pair of which associates on the composition of Michelangelo's sculptural decoration on Medici Chapel (1520). The figures on the upper area are holding their attributes, thus one may know that it is the image of Medusa, which after viewing itself in Perseus' shield as in a polished mirror, petrified itself, as well as of Athens, which can be seen in the second part of the composition with an owl and a book. The figures of Artemis, the goddess of fertility and hunting, and Justice, presented with a cane in her right hand, are also visible. The figure holding a distaff in its left hand is probably Parka, one of the three ancient goddess of human fate. The building is also characterised by its elaborately painted, representative staircase.
(Olga K. Ninkov)
Bibliography:
Vujnović Prćić Gordana – Aladžić Viktorija – Grlica Mirko (2004): Gradotvorci–Városteremtők. I, Gradski muzej–Városi Múzeum, Subotica, 66.
Rakočević–Cvijanov Maja – Džamić Neda (2011): Fasadni reljefi i skulpture u zaštićenom jezgru Subotice. Međuopštinski zavod za zaštitu spomenika kulture–Községközi Műemlékvédelmi Intézet, Subotica.