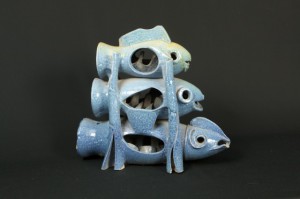 The Imre Dévity Colony of Ceramic Artists was established in Mali Iđoš in 1958, motivated by the establishment of colonies in the surrounding towns. The first head of the colony was Aranka Mojak, a ceramic artist, who worked as an art teacher at the local elementary school at that time. At the first session of the colony in 1959, in the school building, the participants were Kosta Đorđević from Belgrade, Ferenc Kalmár from Subotica, as well as Aranka and Petar Mojak from Mali Iđoš. The second session was also attended by Mira Jurišić, Matija Vuković and Ferenc Deák. Participants of this session were involved in the program of "small synthesis" with the aim of integrating visual art and contemporary architecture, and the results of the program are visible in the form of wall decoration in the health centre in Feketić, as well as the Njegoš bust in Lovćenac, made by Vuković. The colony has been named after Imre Dévity, one of the founders, since 1973. Participants of the colonies were ceramists József Togyerás, Ivan Jandrić, Magdaléna Kalmár, Zlata Baranyi Markov, Károly Baranyi, and after Aranka Mojak the colony was led by Edit Nemes Fekete, Erzsébet Cservenák and László Csernus. Since 1981, the artists do not work in the school building, but in the hall of the Bačka Industry of Construction Materials, and they use the industrial kilns for baking ceramics (Šram 2003). Until 1990, the colony was mostly attended by artists-ceramists, while later it also involved a larger number of amateur potters. Part of the collection of works created in this colony is preserved in the elementary school, and another part of it in the library in Mali Iđoš. The collection mainly consists of gifts from the participants in the colony. Today, the tradition of making pottery in Mali Iđoš is fostered by the Imre Dévity Free Art Workshop, which organises meetings, exhibitions and events with the aim of educating young ceramists.
Ljubica Vuković Dulić
Bibliography:
1. Šram Olga (2003): Umetničke kolonije u Vojvodini 1952–2002. In: 50 godina umetničkih kolonija u Vojvodini. Likovni susret, Subotica, 32-33.