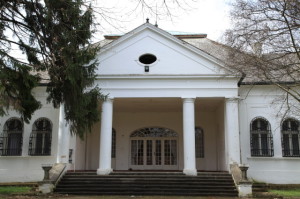 The Panonija palace is located near the village of Bajša, on the agricultural possession of the same name. The one-storey building was created in 1846, in classical style. It is located in a very well-kept, spacious park. The object is characterized by simplicity and symmetrical composition. The forward entrance porch is supported by four massive pillars, above which there is a beam with the year of construction and a triangular pediment. The grids (guards) of wrought iron on the windows are rare preserved craftsman's piece of work of the period. Inside there are a few original mirrors, a glazed tile stove, flooring – parquet, woodwork – a desk in walnut wood, stucco decorations and a small library. On the basement of old Count Falcion's former stables, who admired horses, there was built the Hotel Biser after the Second World War, next to the estate. In the seventies and eighties of the 20th century, the hotel guests were the biggest names of the world of sports, culture, art and politics of that time. The hotel was reconstructed and reopened in 1997.
(Olga K. Ninkov)
Bibliography:
Bakić, Svetlana (2009): Dvorci i letnjikovci Vojvodine. Pregled fonda graditeljskog nasleđa, stanje objekata, vlasnički odnosi, namene. In: Dvorci i letnjikovci Vojvodine, Nacionalna asocijacija za ekoturizam "Ekoturizam Serbia", Bečej, 7–38.
Кулић, Бранка / Kulić, Branka (2012): Дворци и летњиковци Војводине – Castles and Summer Houses od Vojvodina. Појрајински завод за заштиту споменика културе, Петроварадин – Палтонеум д.о.о., Нови Сад / The Provincial Institute for the Prptection od Cultural Monuments, Petrovaradin – Platoneum, Novi Sad, 234–235.