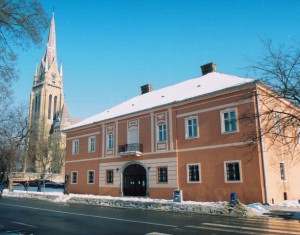 The Mansion Kray in Bačka Topola must be pointed out from the group of secular baroque buildings outside of Subotica, which was built from 1800 to 1802 in the copf style, evolved in the transition from Baroque to Classicism, as the place of residence of the family of Baron Pál Kray, an artillery general (1735–1804). Pál Kray was donated for his military service in a king's decree, and received the village of Topola with the puszta of Emőd. Similarly to other settlements of former southern Hungary, the castle was built near the church. This is a free-standing late baroque two-storey building with a rectangular basement, with its main facade facing the main road. Not counting the church, it was the first multi-storey building in the village. The large entrance portal with arches is accentuated by a stone door-frame. Above it, there is a terrace with wrought iron grid, typical to this period. Beside the castle, there was a then modern, large English park, known as Park Zichy. The building was declared a cultural monument, being restored and protected in 1991. Inside the mansion, there is a gallery and the local museum.
(Olga K. Ninkov)
Bibliography:
Bakić, Svetlana (2009): Dvorci i letnjikovci Vojvodine. Pregled fonda graditeljskog nasleđa, stanje objekata, vlasnički odnosi, namene. In: Dvorci i letnjikovci Vojvodine, Nacionalna asocijacija za ekoturizam "Ekoturizam Serbia", Bečej, 7–38.
Borovszky Samu (ed.) (1909): Bács – Bodrog vármegye, I., Budapest, 169–170.
Harkai Imre (2001): Istorija naselja i arhitekture. In: Harkai Imre (ed.): Monografija Bačke Topole 1750–1945. Daniel Print, Novi Sad, 119–142.