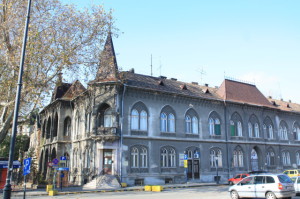 The mansions of Károly Lichtneckert senior were built according to the designs of architect Titusz Macskovits from Subotica (Subotica, 1851 – Subotica, 1919) between 1897 and 1898, in neo-gothic style. This respected citizen of German origin, Károly Lichtneckert senior was the tenant of the restaurant in the nearby railway station. The corner building is partly facing the park and resting on Leovits palace, while the other side is facing the railway station. The central and angular parts are accentuated with rich decoration and a special emphasis is given to it under the balcony on the corner of the building: with a figure of a grotesque head and outstretched wings of a bat. Later an entrance was opened for a pharmacy in this part of the ground floor. Opposite the park there is a small garden and a decorative wrought iron fence in front of the building. The main entrance from the park leads us into a representative staircase, which has been richly painted. On the ground floor there were two four-room apartments, while towards the station there were four shops. This building is one of the few but representative examples of Gothic revival in Subotica.
(Olga K. Ninkov)
Bibliography:
Vujnović Prćić Gordana – Aladžić Viktorija – Grlica Mirko (2004): Gradotvorci–Városteremtők. I, Gradski muzej Subotica – Szabadkai Városi Múzeum, 110–115.
Љубичић, Сава (2006): Зграда Лењинов парк 13. Заштитар, 1., Међуопштински завод за заштиту споменика културе, Суботица, 207–208.
Ljubičić, Sava (2006–2008): A Lenin park 13 szám alatti ház. Örökségvédelem, 1., Községközi Műemlékvédelmi Intézet Szabadka, 207–208.