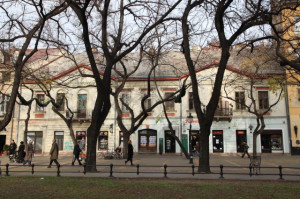 The object was created (1847–1848) based on the project of an architect from Subotica, János Scultéty (Subotica, 1806 – ? 1873) in classical style, and it had two owners, Jovan Ostojić, a prominent merchant and landowner, and the entrepreneur Imre Jakopcsits. Part of the building, which is now under number 4, probably belonged to Jovan Ostojić and his wife, Terezija born Zozuk, while the part under number 6 was owned by Imre Jakopcsits. The building was adapted in 1907 according to Géza Koczka's projects for the needs of the owner of that time, Vilmos Conen. Since 1891, the Serbian Orthodox parish was located in this house. After the restoration of the facade in 1984, the property was returned to its original appearance: the two parts, divided by architectural decoration and colours, were connected into a whole again. The building has a harmonious appearance, with balanced and clean lines of classicism. The two tympanum-shaped gables stress its classicist form. The dry entrance with the gate is situated centrally and divides the facade into two symmetrical parts. The building is named for an immovable cultural heritage of great importance.
(Olga K. Ninkov)
Bibliography:
Vujnović Prćić Gordana – Aladžić Viktorija – Grlica Mirko (2004): Gradotvorci–Városteremtők. I, Gradski muzej–Városi Múzeum, Subotica, 20–23.
Шади, Бранка (2006): Остојић палата. Заштитар, 1., Међуопштински завод за заштиту споменика културе – Községközi Műemlékvédelmi Intézet, Суботица – Szabadka, 243–244.
Šadi, Branka (2006–2008): Az Ostojić-palota. Örökségvédelem, 1., Községközi Műemlékvédelmi Intézet Szabadka, 243–244.