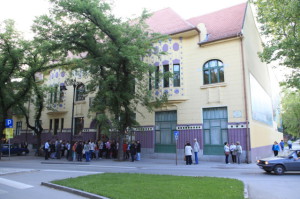 The palace of Miksa Dömötör in Subotica, designed by architects József Vágó (Nagyvárad, 1877 – Salies-de-Béarn, 1947) and László Vágó (Nagyvárad, 1875 – ?) from Budapest, was built in 1906 with the elements of geometric Art Nouveau from Vienna and Darmstadt. Two birds facing each other on the balcony rails of the frontage are a kind of Vágó brothers' signature that often appears on their buildings. The object was originally intended for being the residence of the customer Miksa Dömötör's family, who was a physician and a versatile intellectual, but for some other purposes as well. In the basement there was the room of the janitor, the utility rooms and the storage. Right from the dry entrance, there were two shops and a pressroom behind them. To the left of the entrance, there was the owner's magnificent five-bedroom apartment and his surgery, and the first floor had two similarly arranged apartments, with that instead of the surgery there was a large children's room facing the courtyard. Miksa Dömötör was the owner of the house until 1910. Between the two world wars, an academic painter, Klára Geréb lived here, as well as Ferenc Fenyves, one of the most important journalists of that period in Subotica. Then the building was also the seat of the local newspaper Bácsmegyei Napló and of the Minerva Printing House, and the latter was operating here until 2008 when, after the restoration of the building and with the decision of the town's government, the Municipal Museum of Subotica moved in.
(Olga K. Ninkov)
Bibliography:
Aladžić Viktorija, Nove ideje na pragu novog veka. Ideologije i ideali. Prilozi istraživanju arhitekture 20. veka u Vojvodini – Ideologies and Ideals. Contributions to Research of the 20th century architecture in Vojvodina, Muzej savremen umetnosti Vojvodine – Museum of Contemporary Art Vojvodina, Novi Sad, 2010, 15–23.
Grlica, Mirko (2007): Kuća koja pamti – Egy ház emlékei. Gradski muzej Subotica – Városi Múzeum Szabadka.
Prčić Vujnović, Gordana – Aladžić, Viktorija – Grlica, Mirko, Gradotvorci – Városteremtők. I, Gradski muzej, Subotica – Városi Múzeum, Szabadka, 2004, 156–159.