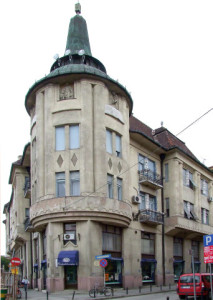 The central area on the Square of the Victims of Fascism is occupied by an urban plateau, which integrates several functions – walkways, resting place and place of remembrance. The centre of the plateau is dominated by the Monument to the fallen soldiers and the victims of fascist terror (1950–1952), made by Toma Rosandić and his master workshop in Belgrade. The monument consists of three parts: the pedestal – the holder of bronze sculptural parts, the access part and the tombs. It was the first monument of modern conception in post-war Vojvodina that dealt with human suffering in a universal manner at a time when art was dominated by socialist realism. Although monumental, it still fits into the spacious ambience of the square. Opposite to it, in front of the entrance to the cathedral of St. Teresa of Avila, there is the Memorial of Ferencz Szép (2007) by Tibor Szarapka, a sculptor from Subotica. Of a smaller size, but with symbolic and expressive depiction of human hands in a prayer position, radiating life energy, this monument is memory of the former parson of this church and a Hungarian cultural activist.
Ljubica Vuković Dulić
Bibliography:
1. Дуранци Бела, Габрић Почуча Вера (2001): Јавни споменици општине Суботица – Szabadkai község emlékművei. Mеђуопштински завод за заштиту споменика културе, Суботица.