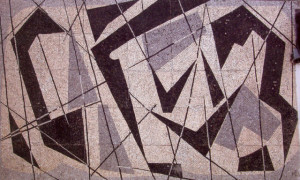 The Art Colony in Bačka Topola was founded in 1953. The first participants and founders of the colony were József Ács, Pál Petrik, Stevan Maksimović, Zoran Petrović, Boško Petrović and Miloš Bajić. The colony was placed in the old school building, not far from the town. Imre Dévity was the leader and organiser of the colony from its foundation until 1960, after which the colony was led by József Ipacs, Pál Ádor and István Zsáki. One of the program orientations of the colony was the improvement of living and working space, or the program of "small synthesis" that was aimed at integrating art and contemporary architecture (Duranci 2003). Due to this program, a number of newly built architectural buildings, such as schools, health centres, libraries, hotels in Bačka Topola, Mali Iđoš and Feketić, were enriched with frescoes, wall ceramic compositions, wall mosaics and outdoor sculptures, which embodied the connection between arts and the environment. Among the participants of the colony there were artists from the entire former Yugoslavia, but also from Hungary, Poland and Russia. However, most of them were still artists from Vojvodina. Changes in the concept of the colony emerged in the nineties due to the crisis in the society, but the colony was not interrupted, since a number of young artists also attended it, and the exhibitions were continued as well. In the colony's collection there are paintings, graphics, drawings and sculptures of the participants of the colony, and it has been formed over time from the authors' gifts, but also through purchasing. It is now placed in the Art Gallery of the Kray castle in Bačka Topola, where some exhibitions are also organised, accompanied by exhibition catalogues (Šram 2003).
Ljubica Vuković Dulić
Bibliography:
1. Duranci Bela (2003): Pedeset godina umetničkih kolonija Vojvodine 1952–2002. In: 50 godina umetničkih kolonija u Vojvodini. Likovni susret, Subotica, 17-18.
2. Šram Olga (2003): Umetničke kolonije u Vojvodini 1952–2002. In: 50 godina umetničkih kolonija u Vojvodini. Likovni susret, Subotica, 32-33.