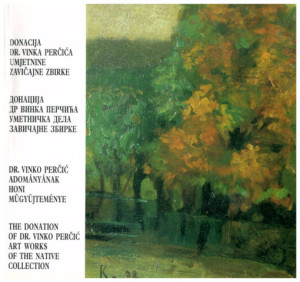 The Dr Vinko Perčić Native Gallery in Subotica is placed in a house built in the eclectic style, which was designed by Dezső Jakab. The gallery was founded in 1996 with the aim of using the building itself, the collection of paintings and the objects of applied art, which Dr Vinko Perčić had collected and donated to the town of Subotica, for cultural and scientific purposes. The exhibits of the permanent exhibition placed in the gallery, indicate the sphere of arts that was Dr Perčić as an art lover interested in. The legacy left the town of Subotica mainly consists of the works of native artists who had worked from the beginning of the 20th century to the end of the seventies of the 20th century, such as Jelena Čović, Stipan Kopilović, Béla Farkas, András Hangya, Gustav Matković, Ivan Balažević, Josip Skenderović and others (Duranci 1996). The collection of the Dr Vinko Perčić Native Gallery was looked after and its activities were organised by curators of the Municipal Museum of Subotica until 2006, when it became an independent institution. Today, the gallery operates in the field of presenting artists of different contemporary art practices, as well as in the field of preserving, processing, displaying and promoting works of art from the legacy of Vinko Perčić.
Ljubica Vuković Dulić
Bibliography:
1. Duranci Bela (1996): Umetnička kolekcija dr Vinka Perčića. In: Mikuška Milka (ed.): Donacija dr. Vinka Perčića-Umjetnine zavičajne zbirke. Gradski muzej, Subotica, 23-33.