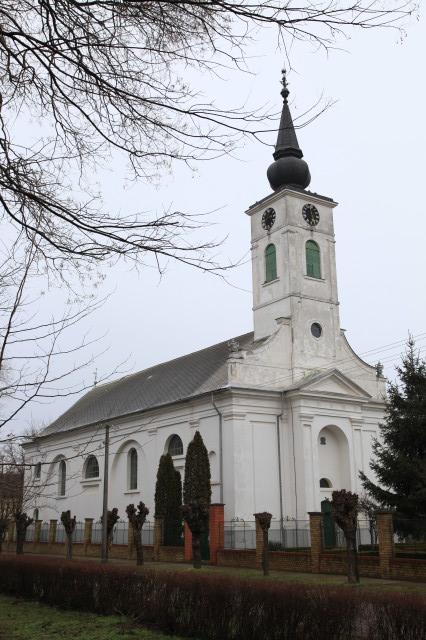 Hungarian Calvinist colonists arrived to Pačir in 1786, coming from Cumania. They built their first church from adobe in 1791, the tower of which was erected from baked bricks in 1810, and then adjusted the still standing classical church between 1833 and 1835, the master builder of which was Jovan Pantić, a local-born technician. The main front is expressed by a projection with pediments and pilasters. The church tower was lower and squatter previously, while it got its current form in the 1940s. The side view of the nave is made lively with the alternation of the lying and standing semicircular windows that are separated by pilasters. The interior furnishing reflects the restrained style of Calvinist churches. The pews painted in brown shows the living on of the shapes of the rococo style. The church clock was mounted in 1869, while the organ was bought from Sándor Ország, a master from Pest. The presbytery next to the church was built in 1822, reflecting the shapes of Baroque architecture with its high roof timbers.
Korhecz Papp Zsuzsanna
Literature:
Takáts, Károly (1942): Százötvenöt év. A pacséri református egyház története 1786-1941. Bethlen Gábor Irodalmi és Nyomdai Részvénytársaság. Budapest.