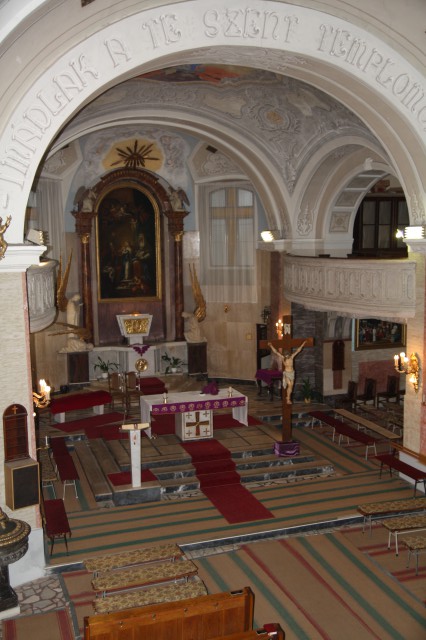 The first church in Mali Iđoš was built from beaten earth in 1769, which was replaced by the brick church rebuilt after a Chamber's standard design in 1788. The Saint Anne high altar-piece was painted in 1791 by József Falkoner (Buda, 17?? – Buda, 1809) a painter from Buda, following Baroque traditions and presenting a popular subject of that time, the instruction of Mary. József Falkoner was the last representative of the Falkoner painters' dynasty from Buda that had a leading role for more than 200 years. The side-altars are decorated with the Academic style paintings of Mór Than with rich colouring, showing Saint John of Nepomuk and Saint Joseph. This eminent representative of Hungarian historian painting made the pictures in 1868. The Romantic style icon of the Blessed Virgin, placed in the chapel, presents a painting of a considerable worth. The statues of Saint John of Nepomuk and Saint Florian in the church yard were originally made in the 19th century, but have been recast and coloured recently. The foundation of Fülöp Beer had raised a metal crucifix in front of the church in 1904.
Korhecz Papp Zsuzsanna
Literature:
Schematismuus Dioecesis Suboticanae (2009). Subotička biskupija, Subotica.