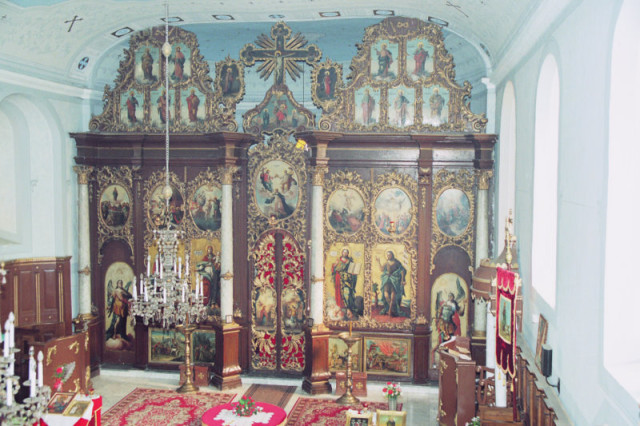 The Orthodox church in Aleksandrovo, consecrated in 1818, was built in late Baroque style with classical notes. The interior of the church is undecorated, restrained, there are no icons in the chanting chairs, while the thrones of the Blessed Virgin and the prelate are decorated with newer (Stefan Stefanović, 1923) icons. The biggest asset of the church is the iconostasis from 1766, which was discarded from the Orthodox church in Subotica in 1910, and which was rediscovered in 1953, after the restoration of the picture wall. The author of the iconostasis has not been identified with certainty, but it is for sure the work of one of the most talented painters of that time (maybe Jovan Popović from Novi Sad), who studied in so called Kiev school, where the influence of the western Baroque art was mixed with traditional icon painting. After transporting it to this new location, the portraits of apostles, Saint Peter and Saint Paul were cut off the ridge of the painting wall, and these are now in the Gallery of the Serbia Matica. The original iconostasis of the church in Aleksandrovo had been moved to an unknown place. The marble cross of the church yard had been raised in 1832.
Korhecz Papp Zsuzsanna
Literature:
Vass, Géza (ed.) (2008): Örökségvédelem. Községközi Műemlékvédelmi Intézet, Szabadka.