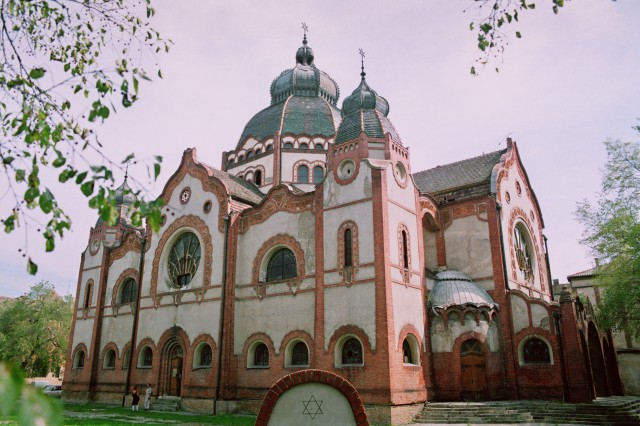 The design of the Subotica synagogue was made by Marcell Komor and Dezső Jakab, architects from Budapest, for the competition of the Szeged synagogue, where they took second place. The Israelite community from Subotica took over the project plans and they had this synagogue built between 1900 and 1903, which can be determined as a representative of the type of so called Hungarian synagogues, utilising new materials and the achievements of modern architecture. The balanced mass constructed on a quadratic ground-plan contains a fascinating interior, where the cupola made with wire netting is uplifted with riveted iron support structure. The interior decoration presents rich patterns of Hungarian folk art, visible on decorative wall paintings and the gypsum ornaments, while the colourful stained-glass windows from Miksa Róth's world renowned workshop show the most recent toolset of that time. The façade is dominated by bricks and terracotta, while the cupola is covered with Zsolnay glazed tiles and copper head-pieces. The restoration of this monument is in process, and it will serve for cultural purposes in the future.
Korhecz Papp Zsuzsanna
Literature:
Vass, Géza (ed.) (2008): Örökségvédelem. Községközi Műemlékvédelmi Intézet, Szabadka.