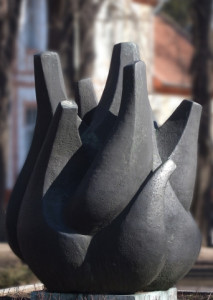 The torch of remembrance is a bronze sculpture that symbolises flame, standing on a shallow square base. The monument was created in 1971 by the sculptor Ana Bešlić (Bajmok, 16.02.1912. – Belgrade, 26.01.2008.), who was one of those sculptors whose creations marked the development of modern Yugoslav sculpture. It is placed in the centre of Bajmok, in a small park in front of the catholic church. The monument was ordered for the commemoration on the thirtieth anniversary of uprising in World War II, being formed in a modern sculptural language. Tongues of fire of compact volumes break out into space, which as a symbol of the hearth can be a peaceful gathering place for all in the community (Duranci, G. Počuča 2001). The torch of remembrance monument is one of the many monuments in the open air that Ana Bešlić had implemented in Subotica and its surroundings since 1951, for example in Palić, Bajmok and Tavankut. Beside the monuments and outdoor sculptures, other works of this sculptor from various creative phases can be found in Subotica in the Municipal Museum as well (Vuković Dulić 2012).
Ljubica Vuković Dulić
Bibliography:
1. Дуранци Бела, Габрић Почуча Вера (2001): Јавни споменици општине Суботица – Szabadkai község emlékművei. Mеђуопштински завод за заштиту споменика културе, Суботица.
2. Vuković Dulić Ljubica (2012): Skulpture Ane Bešlić u Gradskom muzeju u Subotici. Museion 11. 137-149.