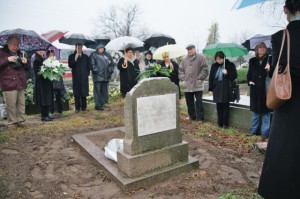 Address: Lovačka Street
Cemetery in Palić.
24413 Palić, Serbia
The painter Béla Farkas (Rijeka, 1894 – Palić, 1941) is a representative of late Art Nouveau, an associate of the newspaper Hírlap. He was the son of Nelly Gábos, a singer of the Opera in Pest, later a professor of the Music School in Subotica. He spent his childhood and youthful days in Subotica and Palić. His exhibited for the first time at the exhibition of the National Salon in Subotica (1912). He enrolled in the School of Applied Arts in Budapest and stayed at the art colonies in Nagybánya (1912) and Kecskemét (1913–1915), where his mentor was Béla Iványi Grünwald. He dealt with theatrical scenery in Vienna and Berlin, but World War I redesigned his fate. With his participation in the war, he got deep traumas and became addicted to drugs and alcohol. Scenes of theatrical visions have stabilised in his artistic expression of that time. He painted and drew actively, and became one of the famous personalities of the inter-war art scene in Subotica. He was a member of the art colony in Nagybecskerek (1931) and of the Society of Artists of Vojvodina (1923–1935). He also exhibited at the exhibition of artists from Bačka in Subotica (1932), and together with Károly Baranyi and Zlata Markov in Novi Sad (1934). He was buried in Palić, his tomb is a protected monument and it is located near the grave of the sculptor Károly Baranyi. The largest number of his works of art is located in the Municipal Museum of Subotica and the Dr Vinko Perčić Native Gallery in Subotica.
(Olga K. Ninkov)
Bibliography:
Baranyiné Markov Zlata (1971): Vergődés. (Éeltjel Miniatűrök 15.) Életjel, Szabadka.
Беседеш, Валерија (2006): Гробница Беле Фаркаша. Заштитар, 1., Међуопштински завод за заштиту споменика културе, Суботица, 133–134.
Beszédes Valéria (2006–2008): Farkas Béla síremléke. Örökségvédelem, 1., Községközi Műemlékvédelmi Intézet Szabadka, 133–134.
Duranci, Bela (1999): Farkas Béla. Forum Könyvkiadó, Újvidék – Novi Sad.
This catalogue has been produced with the financial assistance of the European Union. The content of the catalogue is the sole responsibility of the Thorma János Museum of the Local government of Kiskunhalas town and the Municipial Museum in Subotica can under no circumstances be regarded as reflecting the position of the European Union and/or the Managing Authority.