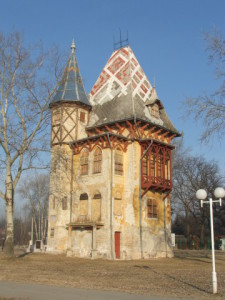 Information:
Phone: +381 (0)24-753-186
One of the most beautiful villas in Palić is located along the road to Szeged, near the Water Tower and the park. It belonged to the prominent industrialist from Subotica, Rafael Hartmann, who had his summer cottage built in the nineties of the 19th century. The property has a decorative wooden porch made along with the established patterns, typical to Swiss type of villas, with lace-shape ornaments of floral and geometric motifs. The building highlights the status and reputation of its original owner and builder, and reflects the spirit of the time when the spa and resort experienced its boom. Today there is a post office in it.
(Olga K. Ninkov)
Bibliography:
Mađar, Laslo / Magyar László (2003): Palićke šetnje – Palicsi séták – Palić Promenades. Palić – Ludaš & Krstić, Boško, Subotica – Szabadka.
Vujnović P. Gordana (2012): Građanski letnjikovci na Paliću od sredine 19. veka do Prvog svetskog rata – Polgári nyaralók Palicson a 19. század közepétől az első világháborúig. Zaštitar – Örökségvédelem, 2., Međuopštinski zavod za zaštitu spomenika kulture–Községközi Műemlékvédelmi Intézet, Subotica, 110–131.