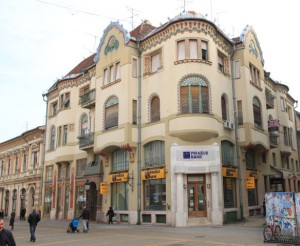 The building, which was built as the seat of the Country and Commercial Bank in Subotica, today known as "Putnik", is located on the corner of one of the oldest and most representative streets in the protected centre of the town. The facility was designed by Dezső Jakab (Biharrév, 1864 – Budapest, 1932) and Marcell Komor (Pest 1868 – Sopronkeresztúr, 1944) in 1907, in Hungarian Art Nouveau style. Because of the original purpose of the building, there are some beehives appearing on the facade – the symbol of hard work and savings, one of which is made of metal and is located above the main entrance, two on the stone massifs on both sides of the wooden gates, and two more on the gables of the building. The first floor windows are framed by a series of stylized heart motifs – that also look like owls, the known symbol of wisdom. In the same area there is a motive of a squirrel, a busy collector. Special accented elements of the facility are the four identical motifs made of Zsolnay ceramics: a woman leaning on her elbows above the window and watching the passersby. The facade done in a rich and colourful way has an wavy surface both horizontally and vertically. Around the entire building, except for the rectangular bay windows, there extends a wreath below the roof, decorated with floral ornaments of Zsolnay ceramics in yellow and blue. At the foot of the high roof there are gutters and snow-fences decorated with holders in the form of peacock feathers. The facade of the building was restored in 1992.
(Olga K. Ninkov)
Bibliography:
Martinović Cvijin, Kata (2002): Subotički opus Komora i Jakaba – Komor és Jakab szabadkai opusa. In: Krstić, Boško (ed.): Secesija u Subotici – Szecesszió Szabadkán. Književna zajednica, Subotica – Kijárat Kiadó, Budapest, 24–75.
Várallyay Réka (2006): Komor Marcell – Jakab Dezső. Holnap Kiadó, Budapest.