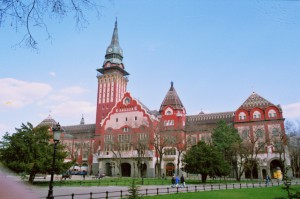 The Town Hall, which is located in the heart of Subotica, was built in the period between 1908 and 1910, and its interior furnishing was finished by 1912, was designed by architects from Budapest, Dezső Jakab (Biharrév 1864 – Budapest, 1932) and Marcell Komor (Pest 1868 – Sopronkeresztúr, 1944). It is a representative example of Hungarian Art Nouveau and it belongs to the general family of town halls, in which modern technical solutions of that time had been applied (central heating, electric lighting, gas lighting, elevator etc.). This object reflects the synthesis of architecture and crafts. It had been realised with the help of masters and craftsmen mostly from Subotica, then the Zsolnay manufacture from Pécs, Miksa Róth stained-glass artist from Budapest, as well as some other artists: some of the stained-glass windows in the main hall were designed from the drafts of Sándor Nagy, while in the yellow hall there are paintings of Henrik Aczél and Ferenc Bence with the views of the old and new town halls. The influence of folk art is reflected in the ornaments taken from the visual vocabulary of Székely land and Kalotaszeg. The building was created as a modern administrative and commercial centre, and its function is the same even today. From the four entrances, the central one is hallmarked with a high tower having a lookout on its top. The building has been a protected monument of architecture since 1967.
(Olga K. Ninkov)
Bibliography:
Duranci, Bela, Vitraži Gradske kuće u Subotici. Građa za proučavanje spomenika kulture – Material for the Study of the Cultural monuments of Voyvodina, Pokrajinski zavod za zaštitu kulture, VIII–IX, Novi Sad, 1978, 310–316.
Martinović Cvijin, Kata (2002): Subotički opus Komora i Jakaba – Komor és Jakab szabadkai opusa. In: Krstić, Boško (ed.): Secesija u Subotici – Szecesszió Szabadkán. Književna zajednica, Subotica – Kijárat Kiadó, Budapest, 2002, 24–75.
Vujnović Prćić, Gordana (ed.) (2002): Gradska kuća 1912–2012 Városháza Szabadka. Međuopštinski zavod za zaštitu spomenika kulture, Subotica – Községközi Műemlékvédelmi Intézet, Szabadka.
Várallyay Réka (2006): Komor Marcell – Jakab Dezső. Holnap Kiadó, Budapest.