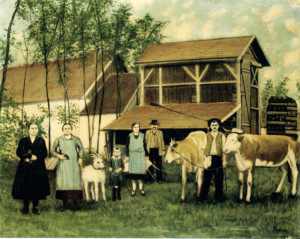 Péter Nagyapáti Kukac (Bačka Topola, 1908 – Bačka Topola, 1944) was among the first artists who created in naive manner in Vojvodina, but also in the wider area of the former Yugoslavia. His artistic talent was supported by Péter Bicskei, teacher of the civil school in Bačka Topola in 1923, so before the naive painters from Hlebine, Kovačica or Oparić were discovered from anonymity. Although he attended painting lessons with Oláh, Kukac developed his own genuine naivety, not obeying the standards of institutional education. One part of his creations belongs to the group of valuable examples of naive paintings (Ninkov 2008). As a kind of native painter, his paintings record wide scenes, moments from the lives of people around him, rich in many detailed views, mostly landscapes, scenes from the farms, as well as portraits. He painted much on farms for orders to make his living that way. Today, a large number of his works is privately owned, and they make up part of the native art collection of the Museum of Bačka Topola and the Municipal Museum of Subotica.
Ljubica Vuković Dulić
Bibliography:
1. Ninkov K. Olga (2008): Otkrivanje Nađapati Kukac Petera. In: Náray Éva (ed.) Nagyapáti Kukac Péter. Lavik 92 – Timp, Bačka Topola.