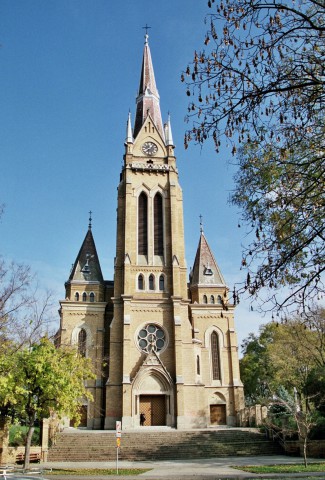 The church of the Visitation of Our Lady in Bačka Topola was built in 1906, after the Neo-Gothic design of Ferenc Raiche. It houses the altar-pieces of the former church (Mary meets Elizabeth, Saint John of Nepomuk and Saint Wendelin). The classical statue of a woman's figure raised to the memory of Baron József Kray in 1805 was originally also made for the old, Baroque church. The stained-glasses of the sanctuary windows were made in 1907 by glass painter maters from Pest (Imre Zsellér: Baptism of Jesus; and Károly Majoros: Saint Elisabeth, Saint Margaret, Gerard Sagredo and Saint Michael). The furnishing is the work of the Stufflesser firm. The construction of the Neo-Gothic high altar contains the unique, art nouveau, multipartite altar-piece, made by Andor Dudits (Budapest, 1866 – Budapest, ?), a painter from the capital. The nave of the church of the Visitation of Our Lady in Bačka Topola has the larges surface among all the churches in Vojvodina.
Korhecz Papp Zsuzsanna
Literature:
Kovačev Ninkov, Olga (2006): Adalék Topolya szakrális emlékeinek kutatásához. In: Museion 5. Városi Múzeum, Szabadka.