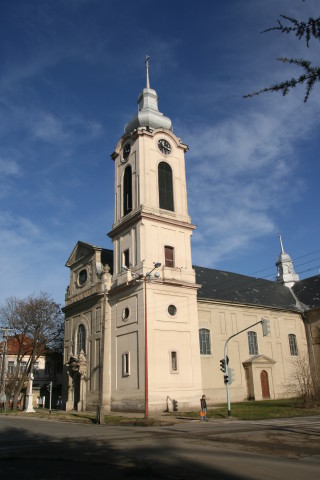 The first Catholic church in Bajmok was built in 1778 from beaten earth, which was rebuilt from solid materials in 1817. The ceiling of the Saints Peter and Paul parish church was decorated with virtuosic wall paintings of Jakobey in 1889. In 1907, the axis of the church building was turned by 180 degrees, so the sanctuary was in the east, and the wall painting of the former sanctuary about the Holy Trinity was above the choir. At the same time, the nave of the church was lengthened with a transept and a new sanctuary, the ceiling paintings of which are the works of Stipan Kopilović, a painter born in Bajmok. The new western main front is of Neo-Baroque style, and opposite to the centrally placed tower of the former church, here the tower is located on the left side. The high altar and the side-altars are made by the Tyrolean Stufflesser firm. The beautiful painted glasses of the windows are made by Imre Zsellér from Pest. The parsonage from the Baroque epoch has preserved its original proportions, which is a rarity in the region, and its original plaster-work is only covered with decorative bricks.
Korhecz Papp Zsuzsanna
Literature:
Gajdos, Tibor (1995): Szabadka képzőművészete. Életjel, Szabadka.