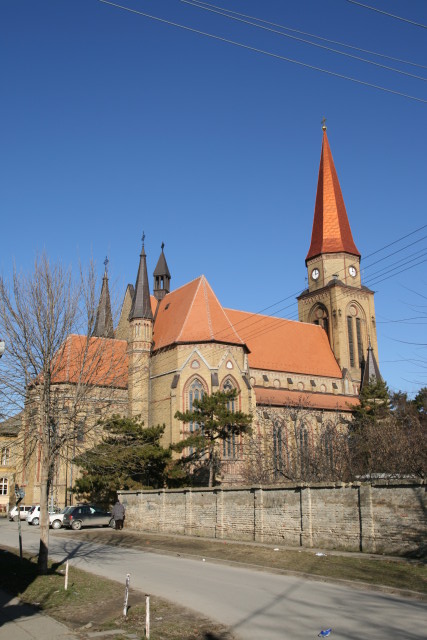 The church of Saint Roch in Subotica was built in Neo-Gothic style after the design of Antal Hofhauser, an architect from Pest, in the year of the Millennium, at the town's expense. The entire Neo-Gothic furnishing was made by the Tyrolean firm Malknecht, while the statues were mage in the Tyrolean Stufflesser wood sculptor workshop. On the high altar, below the statue of Saint Roch, there are the reliefs of the Last Supper and the Melchizedek sacrifice, while the tabernacle is surrounded by two adoring angles. The side-altars are consecrated to Saint Nicholas, the Crucifixion, Saint Joseph and the Virgin. On the wall of the apse there are art nouveau wall paintings of Antal Szirmai in their original state: Handing over the keys and the Ten Commandments. There are the statues of the Heart of Jesus and the Heart of Mary on the triumphal arch. The stained-glass windows (Adoration of the Shepherds, Holy Family, the Apostles, Saint Roch, the Crucifixion, Baby Jesus with the chalice, Baby Jesus with the cross) were made by Sándor Ligeti, a glass painter from Budapest. The chapel next to the entrance was dedicated to Blessed Marija Petković. The Neo-Gothic parsonage is the seat of the Ivan Antunović Catholic Institute.
Korhecz Papp Zsuzsanna
Literature:
Gajdos, Tibor (1995): Szabadka képzőművészete. Életjel, Szabadka.