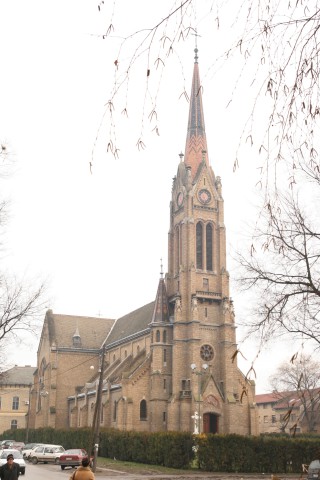 The church of Saint George in Subotica was built based on the winning projects of Hoepfer and Keresztes, architects from Pest in Neo-Gothic style on the occasion of the millennium of the Hungarian conquest between 1893 and 1896. The nave of the church is separated from the side-aisles by 12 limestone pillars. The interior furnishing was made in the Tyrolean firm Stufflesser in 1898-99. On the high altar, there is a monumental figure of Saint George treading the dragon, surrounded by the large-sized statues of Saint Stephen and Saint Ladislaus. The left side-altar was consecrated to the Immaculate Virgin, while the right one to the Heart of Jesus. The altar for mass service in the oratory was constructed from the elements of the former pulpit, the portraits of the four Evangelists. The stained-glass windows, which were destroyed in World War II, had been made by Glogovác and Krause in Budapest. The art nouveau wall paintings of Antal Szirma (Subotica, 1860 – Kiskundorozsma, 1927), titled Jesus' resurrection and Ascension of Jesus have been decorating the sanctuary of the church since 1906. The other works of the painter in the nave have been destroyed, just as the original, colourful wall paintings.
Korhecz Papp Zsuzsanna
Literature:
Gajdos, Tibor (1995): Szabadka képzőművészete. Életjel, Szabadka.