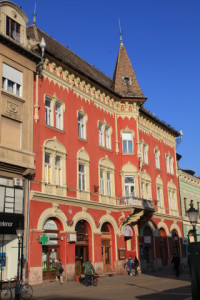 The mansions of Máté Vojnich Jr., the lawyer, city prosecutor, military senator and deputy mayor, was designed by a master builder from Budapest, János Jedlicska in 1893. The building is a representative example of French Renaissance style with some elements of floral Gothic, gotico fiorito and is one of the few buildings of atrium type. On the first floor's bay window above the balcony, there is a free-standing painted figure of a knight, holding a shield with the coat of arms of the Vojnich family in his left hand in front of him. In his raised right hand once he had held a spear. Other decorative plastics of the palace are located around the windows – a figure with two dolphins is a typical renaissance detail. Just like the facade, the interior of the building was also luxuriously furnished with stucco decorations and luxurious furnaces from Zsolnay ceramics, and hand-painted by the art painter Mihály Blaskovics. The interior of the building was very comfortable, being designed with two lifts already in 1893. On the upper floors, there were apartments with bathrooms, while on the ground floor there were shops with three small backyard apartments, stables for six horses with separate boxes, a carriage house and an apartment for the groom next to the stables. The stable and the groom's apartment were reconstructed into the cinema hall of Radnički cinema in the middle of the 20th century.
(Olga K. Ninkov)
Bibliography:
Vujnović Prćić Gordana – Aladžić Viktorija – Grlica Mirko (2004): Gradotvorci–Városteremtők. I, Gradski muzej–Városi Múzeum, Subotica, 40–45.
Rakočević–Cvijanov Maja – Džamić Neda (2011): Fasadni reljefi i skulpture u zaštićenom jezgru Subotice. Međuopštinski zavod za zaštitu spomenika kulture–Községközi Műemlékvédelmi Intézet, Subotica, 51–53.